18 Family Activities for Winter Break Fun!
Today I'm sharing some great family activities for winter break! Let's face it, winter is long and we still need to get out there and have fun! Alright, here is the truth I would rather hibernate and come out in June once the snow is surely melted and it is t-shirt weather again. However, I have four kids who are the reason I get out and find something to do to keep them busy!
Not only are these family fun activities all in one post to make it easier for you to choose from but most of them are super frugal ideas too! Family fun doesn't have to cost money in fact the best adventures we have had were the free ones like our fall decor scavenger hunt!
Family Activities are good for the soul!
There is nothing better than spending time with your loved ones doing family activities. Winter is the perfect time to recharge your family bond. Kids are off from school and bored out of their minds! Kids behave way better when they are getting attention and focus and family activities are the perfect solution!
When Family Activities Go Awry!
Sometimes we spend a ton of time and energy planning the perfect family activity to only have it blow up in our face. Been there, one city trip we had one of the kids throw up all over the van and the other got her hand caught in the sliding door! Oh goodness, well this stuff happens all the time when you are a busy family with young kids.
The key to getting past it is to be empathetic and remain calm. After all, stuff happens! Try to keep an open mind and deal with any issues quickly and advert attention to something that will excite them and make them forget all about the chaos.
Then move on! Yep, vent if you need to but drop it like a hot potato and get back to focusing on what you are there to do!
Be Prepared on Family Outing Activities
Make sure to bring snacks and drinks on family outing activities because there is nothing worse than a hangry child to drag along.
Dress for the weather. Our goal is to overdress because you can always take some off if you are too warm but you can't add a layer if it ain't there. Which reminds me, pack an extra change of clothing. It's winter and there is snow and someone is bound to get wet whether it be socks and boots or mittens! Not to mention a vomiting accident on the way to a family activity, just saying.
Capture the Memories
Don't forget your camera! You will want to capture these family memories forever. The good and the bad make perfect social media posts too haha! Make sure your phone or camera is charged and has enough space to get all the snapshots!
18 Ideas for Fun Family Activities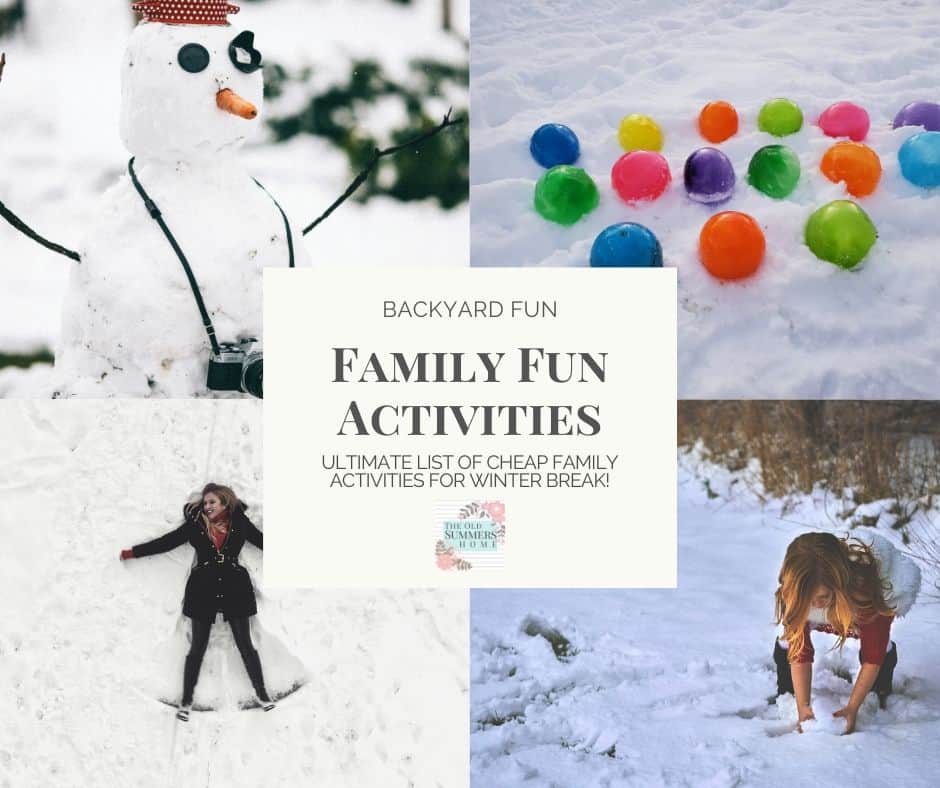 Family activities in your own backyard
Getting out of the house for some family fun activity is as simple as stepping out into the backyard! You don't need to go very far to find fun winter activities everyone will enjoy. Check out these great backyard ideas.
Colored Ice Globes
These are just the coolest! First, you take a balloon and fill it with water and put a couple of drops of food coloring inside. Tie it good and tight and put it in the freezer. Or outside, if you're somewhere super cold! Once frozen, cut and remove the balloon and display outside! These look so beautiful against the contrast of the snow!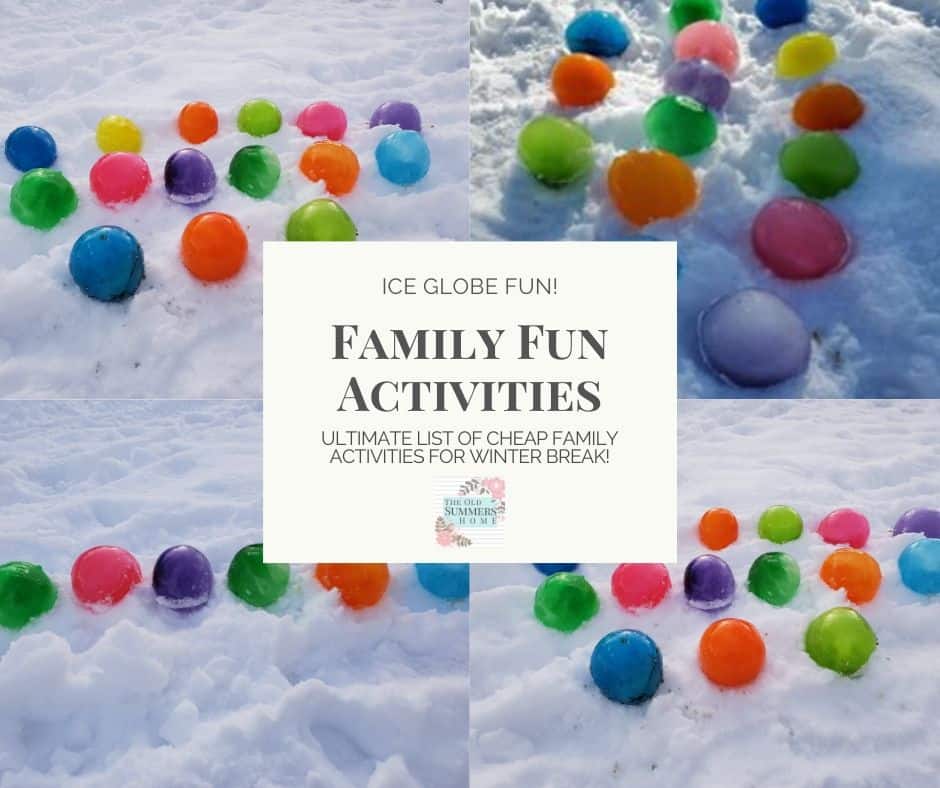 Thank you to my dear friend Pandora for sharing her beautiful Colored Ice Globe pictures with us!
Snowman Building
Since we usually get a lot of snow, we love to build a family of snowmen. Get creative with how you build and decorate them! Gather up some old scarves and mitts to make your snowmen really pop. Or purchase a snowman kit and get creative! A snowman family is perfect for the front yard!
Snow Forts
Growing up my favorite childhood memories revolved around snow forts. We loved making new bigger and better forts every year. Once they are built they are so much fun too. Make some cocoa and chill out in your new snow fort with your family!
Snow Angels
Making snow angels is a classic winter activity. It is so fast and so easy. Every angel is perfect in its own way! Doing it as a family activity is great too!
Compare your snow angels and have the kids pick out the differences.
Snow Painting
You can purchase amazing snow art kits or check out this quick DIY snow paint tutorial by One Little Project At A Time. Now everyone can get creative in the great outdoors! Draw some pictures or play tic-tac-toe!
Family Indoor Activities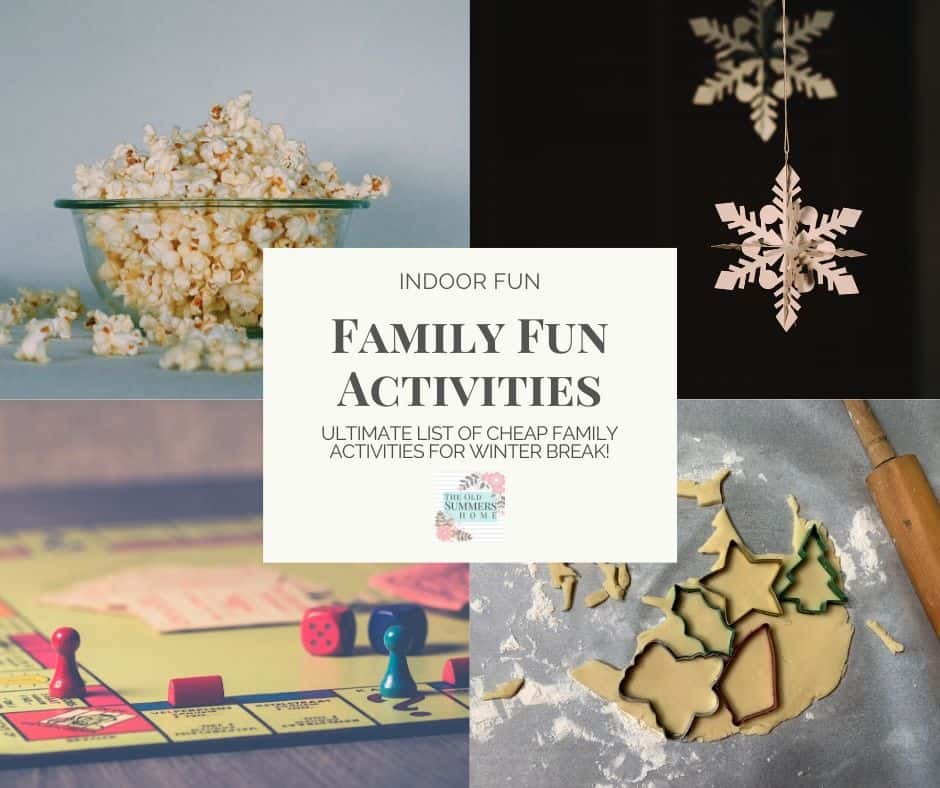 Sometimes it is just too cold to venture outside. Or sometimes you just want a nice cozy day in the comfort of your own home. The solution? Put on the hot cocoa and try one of the indoor family activities!
Homemade Dinosaur Egg Discovery!
For these, I purchase mini dinosaurs from the Dollar Tree. This works great with any small hard plastic you wish to put inside, such as rings, animal figures etc. Look for the smallest little ones and grab some water balloons. If you can't find really small ones grab a bigger balloon size and you're good to go!
I like to do this with a bit of water in the balloon first but whatever works best for you. Fill a balloon with water about half full and slip a dino in through the top. You can add food coloring if you desire. Ensure there is enough water to cover the dino then freeze. Once frozen, remove the balloon from the freezer and discovery can begin.
These are perfect for a dino hunt in the yard later with a warm-up at the table with some hot cocoa while you discover what is inside! Or pull one out and let the kids dig their dinosaur out!
Movie Night
We love to do movie nights throughout the year but winter is our absolute favorite time to soak up some cuddles with the family while watching a great family movie!
Whip up a batch of popcorn and enjoy a night in. Christmas break is the perfect time for watching holiday family movies everyone will love!
Snowflake Making
This is a great activity for the whole family. I love to get in there and make papercrafts with the girls and they love to show daddy what they make! Paper snowflakes are easy to make and great for hanging in the window for some winter decor!
Keep the mess contained by having a work area where everyone can set up! Our kitchen table is our pick!
Game Night
Family board games are still a huge hit on a cold chilly day! You can get hours of fun with the family and some games also have the bonus of helping your kids work on new skills like math, dexterity and problem-solving! So open up that Monopoly game or grab a deck of cards, family fun activities like having a game night will help get through the winter blues!
Baking
Baking cookies is always hit around our house. I love to be in the kitchen whether it be cooking or baking. But the most fun is getting the kids involved. And Josh, well, he loves to eat up that baking haha! Our Sugar Cookie Recipe is perfect for getting the kids involved. Grab the cookie cutters and ingredients and let's get baking!
Go to the Movies
Need a night out but the weather is frightful? Pack everyone up and head to the theatres! We are hoping to get to the movies this winter break and watch the new Frozen movie. The girls loved the first one, so we know this one will be a hit for them too. I love movies that the entire family will enjoy!
Family activities in the great outdoors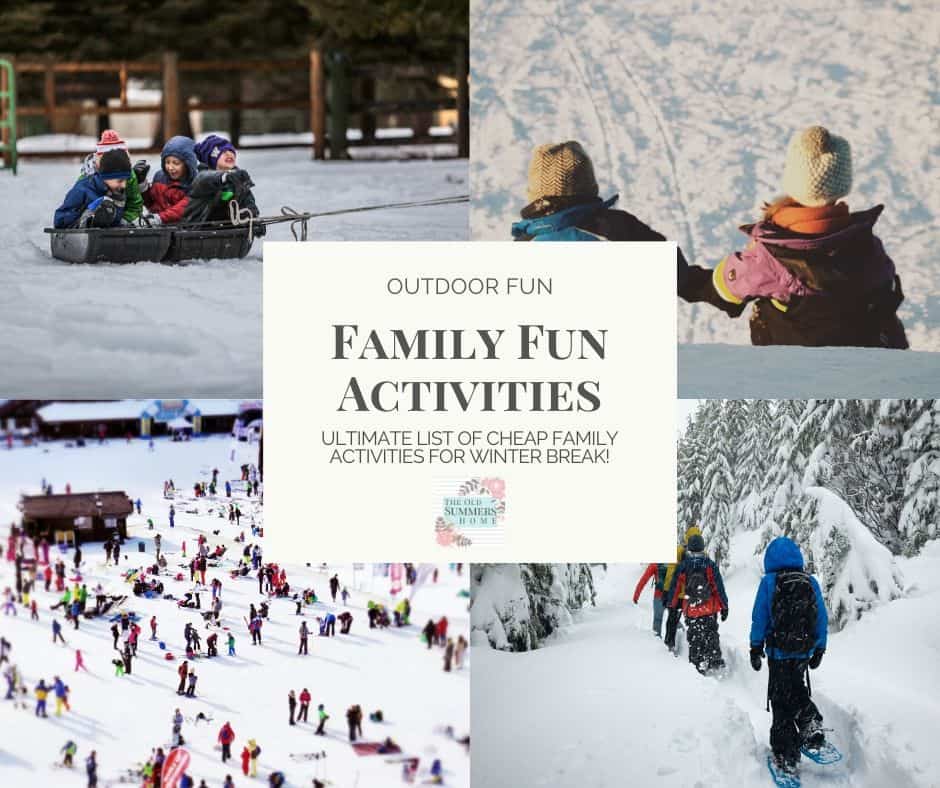 Winter is long and can be so hard on the kids. Our kids are outside during the summer from first thing in the morning until it is time for bed. They love the great outdoors. But winter can be tough to get everyone enough physical activity outside. Here are some great ideas to get your family some outdoor fun!
Snowmobiling
Our family loves to go snowmobiling. In fact, my husband is always hoping for a good snowfall to get out and take a tour. The kids love it too. It is great to meet up with friends and have a day of fun! Hoping this year we can get out again and create some new family memories.
Skiing
I am not a skier, I repeat not a skier, hahaha. Our girls go skiing with the school and they have a blast. I, however, am terrified of skiing. Let's just say I have had the worst luck on a ski hill lol, I'm such a clutz. A lot of my friends love to go to the local ski hill with their family, another great way to get in physical activity with the family!
Sledding
Last year we had tons of fun taking the kids to a hill located within our little town of Spiritwood. You can use a crazy carpet or a GT it's a great family winter activity and lots of fun. Once again another awesome way to get some physical activity in with the family!
Snowshoeing
Admittedly I have never gone snowshoeing but my girls do with their school every year and they have so much fun! I found this great post on Instructables on how to make your own snowshoes! If you try this out then let me know in the comments below.
Ice Fishing
Ice fishing is a great way to get your family outdoors for some family fun. If you don't have ice fishing rods you can use a milk jug and some fishing line. You are going to need access to an ice fishing auger, whether you meet up with another fisherman or have your own to use. Bring a shovel along and you can clear some ice for skating too!
Skating
Skating is a great family activity. You can go to public skating at your indoor rink or find an outdoor rink. As mentioned above you can also clear some ice at the lake while ice fishing, but note that the ice might not be so perfectly smooth but usually still skateable. Don't forget helmets for your new skaters!
Hockey/Shiny
Street hockey is perfect all year round. Your local arena might also offer some shiny time to get your family out on the ice. My favourite childhood memories come from the arena and outdoor rinks. This is a great way to get some physical activity and stay warm while you have some fun.
Save it for later!
We love it when you pin our posts! It helps others find our great ideas too!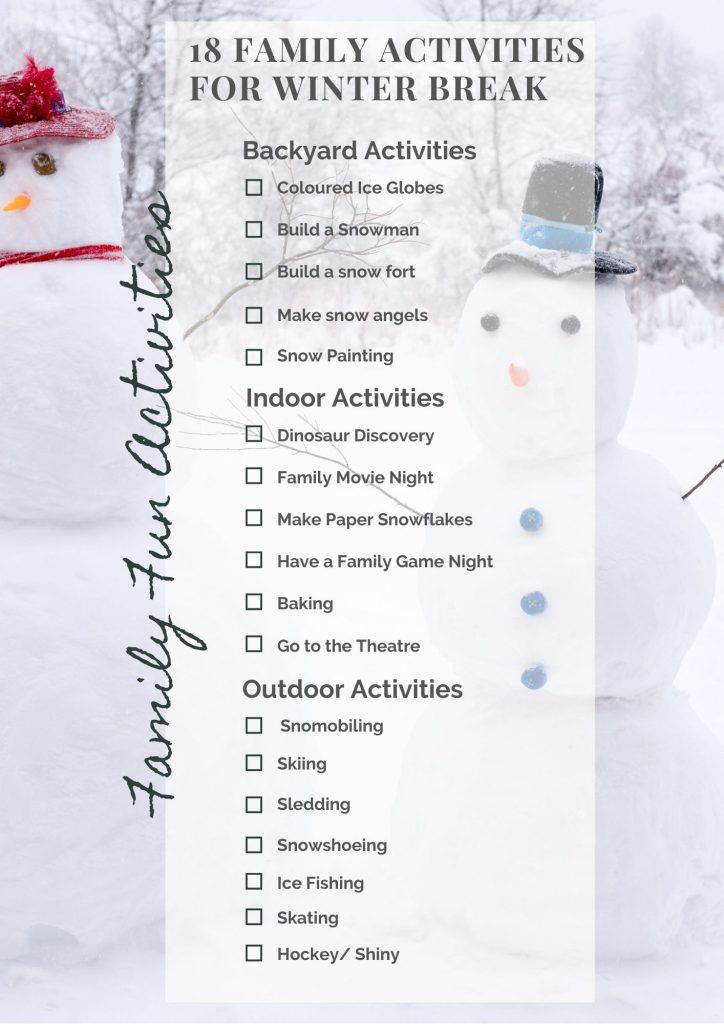 I hope today has inspired you and helped you find ways to fill the winter break with family fun activities! If you have other great winter break activities let us know below! Good luck out there, now go have some family fun together this winter break!