11 Gorgeous Ways to Add Slate Blue to Your Decor
Slate blue is a beautiful and complex color that looks spectacular in a large variety of homes and decor styles. Find out everything you need to know to use this popular color in your home.
Slate blue – I'm guessing it's one of those colors that you have heard of before and have a basic idea of what it looks like but find yourself second-guessing your knowledge. I can just hear it in my head:
"Slate blue is blue…wait, maybe it's kind of a gray-blue? Or blue-gray?"
Slate Blue (also called Blue Slate) is a calming and beautiful blue-gray color that's anything but simple or bland. And, thanks to its versatility, it's a terrific color to use in any home.
I'm showing you all the ins and outs of slate blue as well as some real-life examples of how others use it in their homes. Let's dive in!
Decorating With Blue
I love using blue in home decor. Generally speaking, blue is incredibly versatile. With the change of a shade, it has the power to energize or the power to soothe.
Another great aspect of blue is that you can easily use multiple shades of blue together in a room without feeling overwhelmed.
And slate blue may just be one of the very best blues to use! With it's infusion of gray, it's both colorful and neutral.
What Color is Slate Blue?
It's completely understandable if you find yourself wondering exactly what color it is because it IS a color that spans multiple colors which makes it hard to decide which color it is. Is it blue? Is it gray? I have the answer for you!
It's both!
Super impressive answer, right? 😉
The name "slate" comes from the commonly used rock for building accents. When you look at slate in nature, you'll find a large variety of colors: gray, blue, tan, dark red, purplish-gray, and greenish-gray.
When it comes to decor and design, the name "slate" has basically come to mean that gray is infused in the color you are talking about. Green slate is a greenish-gray color, Slate blue is blue-ish-gray, and so on.
Benjamin Moore describes their paint color named "Slate Blue" as: "An easy-to-use blue with a good deal of gray, this classic color is reminiscent of the wonderfully weathered slate found along an age-old pathway."
I often don't like paint companies' descriptions of their paint color because they almost try so hard to describe a color that the description ends up not really saying anything useful. However, when it comes to Slate Blue, I think it's spot on!
Family of Colors
I think it's important to note that unless you're referring to the one specific color "Slate Blue" from Benjamin Moore (hex code #9BB1BB), any other reference to slate blue is more generic and can apply to a family of colors. 
Some other colors that are similar to Benjamin Moore's Slate Blue are:
Slate blue can range from light blue-gray to very dark blue-gray, but the common thread is that each shade in the family is a combination of blue-gray. So rather than it being a blue color, it's more of a gray color with blue undertones.
What Colors Go Well With Slate Blue?
There are so many colors that coordinate well with a slate blue paint color, including white, off-white, gray, cream, caramel, espresso, and blush. That's the general list of coordinating colors, but here are a few specific colors to give you some examples.
Examples of Blue Slate Being Used In Real Homes
The best way to determine whether a color may work in your home is to see it in other real examples.
However, even after looking at these examples, the best way to determine if you will love a certain color is to actually put a sample of the color in the room where you want to paint so you can see how the light plays with the undertones.
Before committing to one paint color, I highly recommend testing out a peel and stick paint sample from Samplize! You can get a 12″x12″ paint sample to try in any room in your house (and in multiple spots in the same room) for just $5.95!

Check out all Samplize here!
I love the use of Sherwin Williams Slate Blue on this barn door! It's beautiful, chic, and oh-so versatile. Dress it up or dress it down. Let it pop or let it blend into your other decor. So many options!
This slate blue bathroom is timeless and elegant with white vanity and trim and an absolute black countertop. I love that this color can be very feminine or masculine, all depending on the surrounding decor.
Some slate colors can darken small spaces, but a good balance of white or bright colors helps to keep smaller spaces like this bathroom from feeling too dark or crowded.
I love this pool room example – it has slate flooring! This is also a great example of using multiple blues in the same room.
Paint can be changed fairly easily, but another non-permanent way to add pops of color is with furniture! These blue slate couches are a perfect way to create a timeless look within many decor styles.
When we remodeled our guest room/home office, I took a dark slate blue pillow and designed a color palette off of it. I love how it turned out and the pillow adds the perfect final touch.
Blue is a perfect color for bedrooms because it creates a feeling of tranquility. Whether you desire cottage decor, transitional, or farmhouse style, this color works.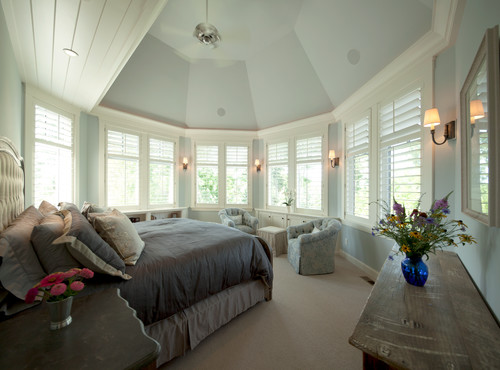 Look how gorgeous blue slate paint on the cabinets looks in a kitchen! I love how comfortable and chic this kitchen looks. The cabinets bridge the divide between the wood floors and the more contemporary intricate backsplash.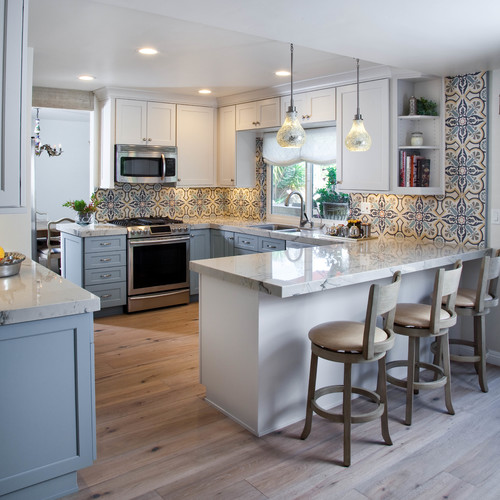 Use accent pieces like throw pillows, vases, and knick knacks to pull in colors from the surroundings. These throw pillows pull in the blue hues from outside.
This bedroom shines in, well, nearly every slate color there is! The blue pops against the otherwise neutral palette.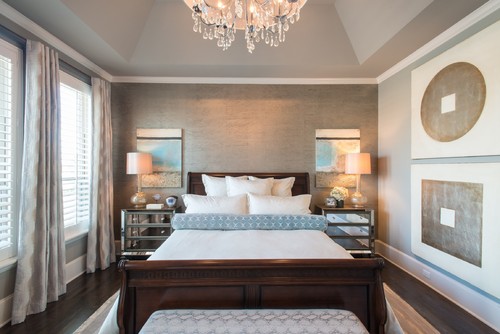 This basement gym remodel is so fun. I love the accent wall, but what really caught my eye was the blue slate crate by the treadmill. What a fun accent piece (and color!).
Blue slate works well for the exterior, too! This classic look is beautiful and enduring, and it looks just as good on a traditional style home as well as modern style homes.
I hope that after reading this post you can see for yourself just how amazing slate blue is. With so many different ways to use and highlight this color to its advantage, I highly recommend finding a way to add it to your home decor – you'll love the way it looks!
Other Posts You May Like:
MEET AMANDA
Amanda is a mom of 4 living a mostly crunchy lifestyle outside of Atlanta, GA with her husband, 2 dogs, and a cat. As a former special education teacher who also has her personal training certification — Amanda really enjoys teaching others how to do things!
When she's not working, Amanda enjoys DIY projects, exercising, photography, hiking, and long walks through Target.