DIY Mason Jar Project – Toothbrush Holder
Today I'm showing you a quick and easy DIY Mason Jar Project – how to make your very own Mason Jar Toothbrush Holder. If you've got 5 minutes you've got time for this simple to do DIY!
If there is one thing I have learned since having children it is that you can't have nice things! Children are pretty hard on things, at least my kids are, who's with me here?
Things get scratched, cracked and dented. Perhaps this is why I have come to fully embrace farmhouse, shabby chic, rustic distressed everything. Last week my kids broke our newly up-cycled toothbrush holder, so I wanted something quick and simple that would work and be frugal too. Cue the Mason Jar Toothbrush Holder!
DIY Mason Jar Project Supplies
mason jar
mason jar snap lid (just the outer ring)
chicken wire
wire cutters
work gloves
I love to come up with projects that I already have everything on hand and that can give me instant gratification. When I don't have all my supplies on hand it can put my new project idea to the back of the list. Especially during winter.
I keep a stash of jars for projects just like this. You can purchase them new, at garage sales and second-hand shops or reuse ones from your canned goods. Because my jars are previously used I prefer to use new sealer rings so that they do not smell. The chicken wire I have on hand because I bought a large roll for other projects that I have in mind. Nothing says farmhouse like chicken wire and mason jars!
How to make your DIY Mason Jar Project
Clean The Mason Jar
Make sure the jar is clean and odorless especially if you are using an old pickling jar. Usually cleaning with soap and water and a bit of vinegar can get the smell out. Sometimes you need to let it soak a bit more. Make sure you let it air dry well and check if it is odorless once dry.
When I store my old jars I don't put lids on them and they air out over time so any hint of pickle odor is usually gone by the time I find a project for them. Clean your rim as well. You will not need the snap lid insert for this project.
Cut The Chicken Wire
Put on some good work gloves I really love the type I linked to above mine are a bit different in color but the same general idea. They have a rubber-like grip on the hand surface and cloth tops. The gloves fit nicely and are not too loose or bulky to get in the way of your working.
Take wire cutters and cut a piece of chicken wire off the roll so that it is easier to work with. Place the jar lid rim on top of the chicken wire and mark it with a sharpie. Using the wire cutters trim the sharpie circle. Place the wire inside your rim lid and trim off any excess pieces that will get in the way of the brim on your jar when twisting it on.
Screw-On The Lid
Make sure the lid screws on straight and even. If it does not then trim a bit more of the wire back under the rim just be careful not to trim too much or it won't stay under the rim.
DO NOT OVER TIGHTEN.
Accent The DIY Mason Jar Project (Optional)
Now you can accent your jar anyway you would like. I chose to leave mine natural with no extras. I love the steel rim and chicken wire look although I have contemplated giving the top some spray paint.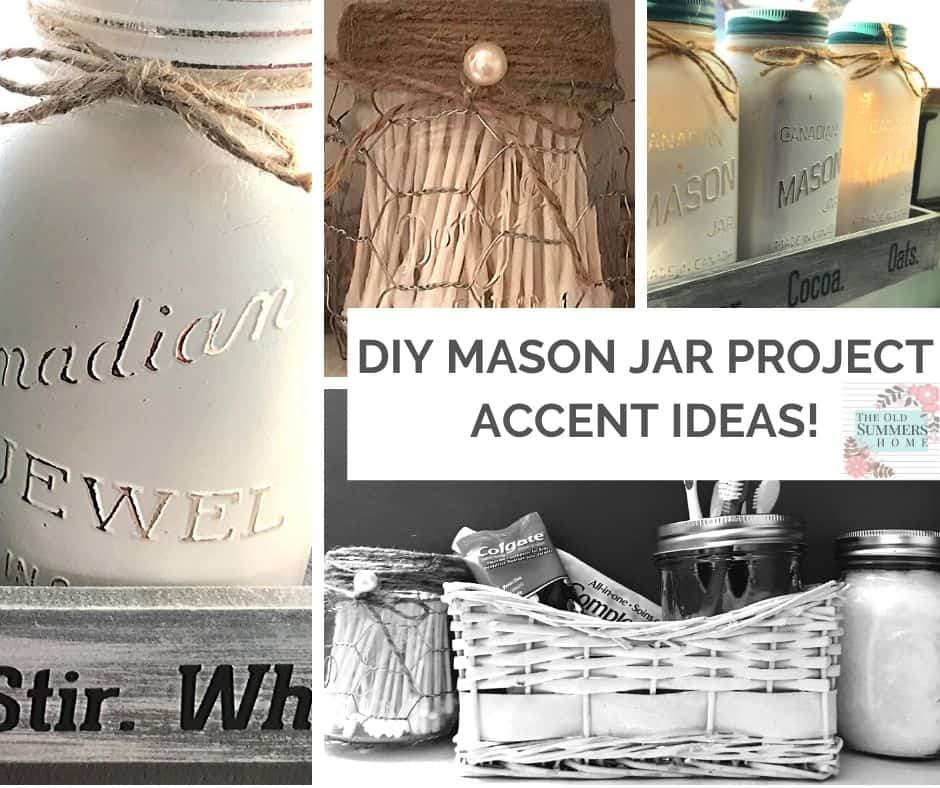 Add some twine to a DIY Mason Jar Project!
If you like the look of twine on mason jars you can simply tie a bow around your top and secure with a dap or two of hot glue. Alternatively, you can wrap the entire rim lid in twine hot gluing every layer.
Paint a Mason Jar Project!
Another simple way to accent your jar is by adding a few coats of flat spray paint. Choose a color that matches your decor if you like or go with a simple white. I find flat spray paint seems to be a lot more farmhouse. Once your paint dries you can sand a bit off and create a rustic look.
Add Some Bling!
Simply hot gluing some pearl beads to your jar rim is a cute little touch as well. I have only added the pearl beads when I'm using twine but its really all up to you how you finish your jar.
Utilize Your New DIY Mason Jar Project-Toothbrush Holder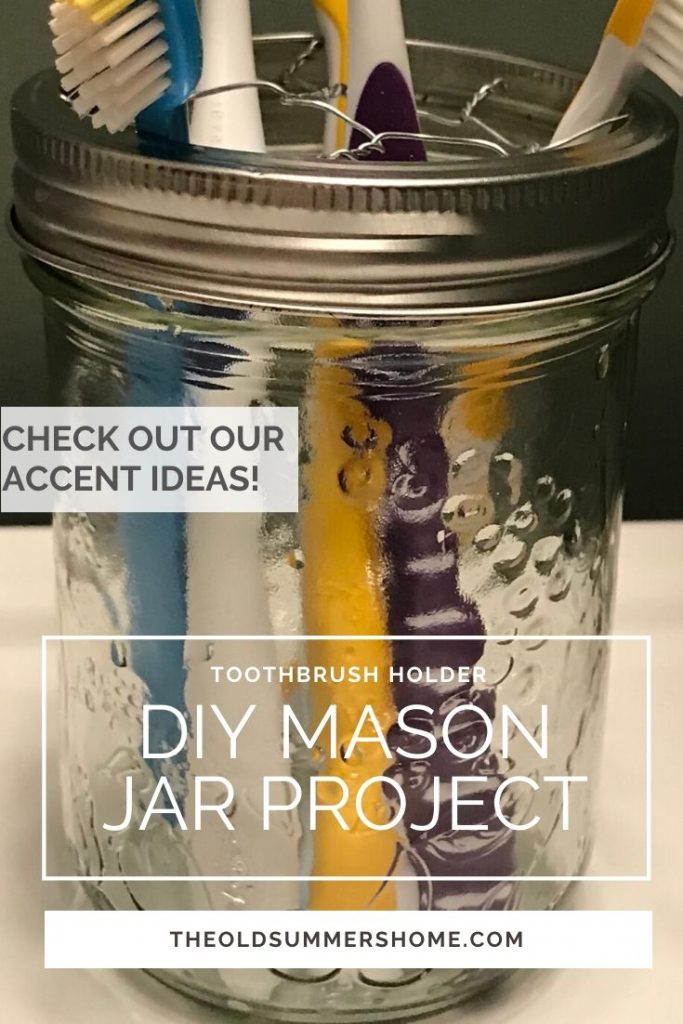 Now all that's left is putting in your toothbrushes. Because we used chicken wire for this project it has created slots for each person to have their own separate slot.
By using a medium height jar there is not a lot of the excess toothbrush sticking out of the top in hope that 'the children' would not knock this one over and break it. However, if they do maybe it will be time for a change again. After all, you can't cry over spilt milk or shattered DIY projects.