Thank you Lorissa's Kitchen for sponsoring this post. Lorissa's Kitchen makes delicious snacks using high quality meats like 100% grass-fed beef and chicken raised without antibiotics!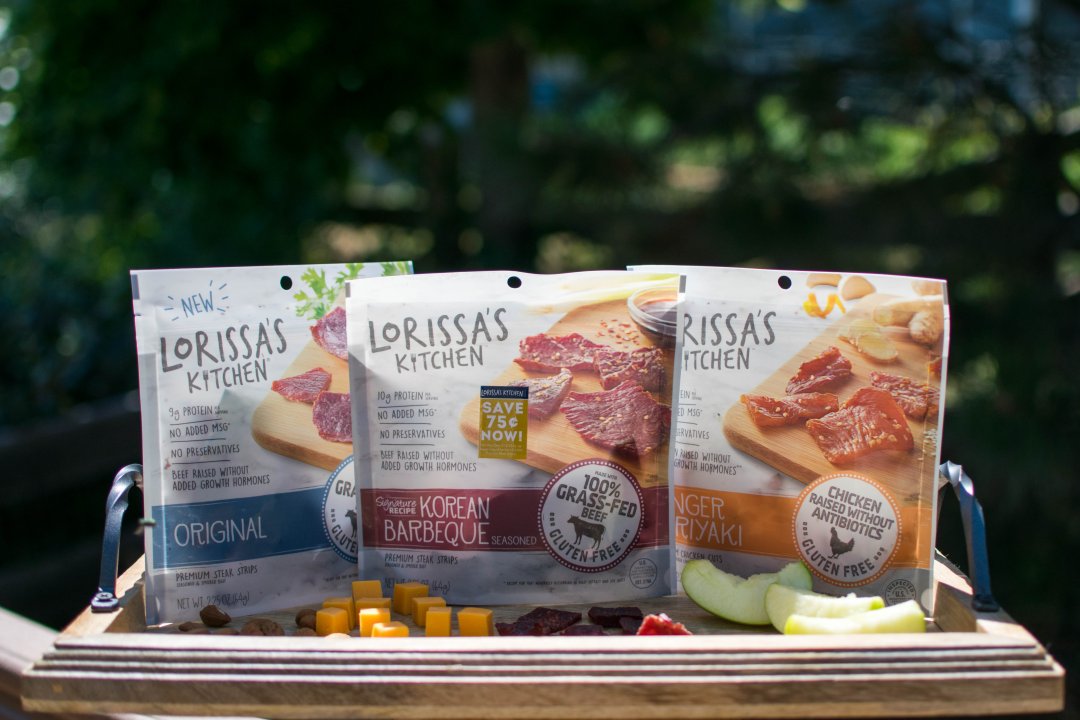 Click on the tags in the above image to shop directly!
My life has encountered many changes in the past few years. New state, new marriage, new jobs, and two new babies. It has been a challenge to adjust to so many new and unexpected things, but it has helped me to learn a lot about myself. I'm finally starting to find out what I am really made of.
What I Am Made Of
I've learned that I am actually a really strong person. Mentally, emotionally, and physically – I can handle more than I ever thought possible. Now that I've had my last baby, I'm ready to focus on that strength within and use it to become even stronger and healthier.
Because I know I'm able to handle new challenges, I plan to challenge myself to incorporate a new exercise: yoga. I've tried it a few times in the past, but haven't been consistent with the practice. My postpartum body would benefit from stretching and gentle movement, and my mind needs the intentional breathing and peace that yoga can provide.
In addition to yoga, I am going to also incorporate more strength training to build more muscle. Before I had Aren, I was very focused on weight lifting and I hit the gym 5-6 days per week. I am excited to get back to it and see how strong I can be! Who says girls can't lift heavy things?
Positivity and kindness are also what makes me ME, and I want to make sure I show that more. I have found that when you look at the positives in every situation, you are a much happier and less stressed person. Making sure that I am a positive example for my kids and those around me is important to me.
They say "you are what you eat" and I know what I eat is a big part of what I am made of. That's why I am very conscious about what I put in my body. All the cravings and treats that I gave in to when I was pregnant definitely didn't make me feel very good! I've been much more aware of my nutrition and I can already feel a difference.
Being a busy mom doesn't make it easy to meet all of my goals, so I have to find ways to be healthy while balancing everything else. Including my kids when I exercise, creating intentional moments of kindness, and planning healthy meals and snacks that everyone loves is what works best. Thankfully, eating Lorissa's Kitchen meat snacks is one way I can make sure to fuel my body and live my best, healthy life.
Lorissa's Kitchen
Protein is always my biggest nutritional challenge, so I was happy to discover Lorissa's Kitchen meat snacks for on the go snacking. These bags of yumminess are easily thrown in my purse or diaper bag to have a healthy snack in the carpool line, on the way to a doctor's appointment, or in between errands. Our favorite flavors are Korean Barbeque Beef Steak Strips, Ginger Teriyaki Chicken Cuts, and Original Beef Steak Strips. I make sure to keep our pantry stocked with them at all times!
I feel even better knowing Lorissa's Kitchen protein snacks are made with high quality meats – 100% grass fed beef, chicken raised without antibiotics, no preservatives, no gluten, no added growth hormones or MSG. Not only is that great for my body, but knowing my kids are going to steal my snacks (especially the Ginger Teriyaki Chicken Cuts) means it's a good choice for them too!
We all know moms have a difficult time slowing down to eat a full meal. We just have so many things to do! By keeping a bag of Lorissa's Kitchen meat snacks handy, I can grab my own protein snack instead of munching on whatever my kids leave behind. That means I can be closer to hitting my protein goals and I don't feel bad about what I'm putting in my mouth! Plus I avoid being the hangry mom that my husband and kids fear so much. Instead, I am a healthy, strong, smart, and calm mom. Win-win for everyone!
Click to learn more about what Lorissa's Kitchen is made of. Check out Lorissa's Kitchen on Amazon, and use code 20OFFLK to get 20% off your order! Then comment below and tell me: What are YOU made of?
I was selected for this opportunity as a member of CLEVER and the content and opinions expressed here are all my own.