Easy Recovery Tips for Active Lifestyles
This shop has been compensated by Collective Bias, Inc. and its advertiser. All opinions are mine alone. #SleepWellWithCopperFit #CollectiveBias 
When I first started exercising – or I could say each time I started exercising, as there have been multiple starts and stops over the years – one thing I always dreaded was the soreness. The oh-my-gosh-how-will-I-roll-out-of-bed-tomorrow soreness. You know what I'm talking about. When your muscles hurt so bad that you come up with ways to avoid moving too much the next day.
What I didn't realize back then was that there were a few easy habits I could start that would help me to recover overnight! If I had figured out these recovery tips back then, I would've stuck with my active lifestyle a little longer. Now that I know what to do, it's much easier to stick with a nighttime routine that helps me to stay active during the day. Here's what I've learned.
1. A Quality Mattress is KEY to Recovery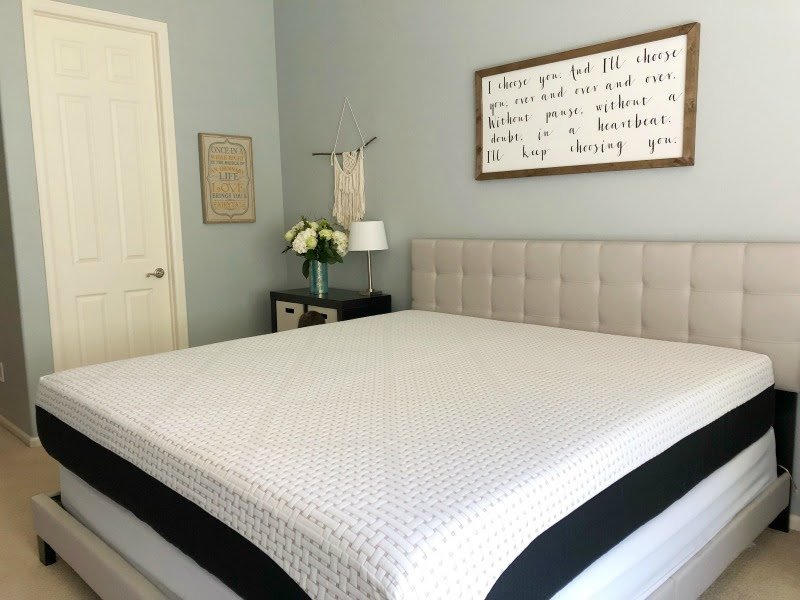 Want to get a Copper Fit® Replenish Mattress like mine? Hover over this photo to shop!
One of the most important ways to help your body recover is by sleeping on a good, quality mattress. I have been using the Copper Fit® Replenish Mattress and can totally tell a difference. It has good airflow, helps with recovery and promotes restfulness. This is my first memory foam mattress, and I love how it cradles the body and provides great pressure relief to help eliminate aches and pains (even my pregnancy aches and pains!!). The mattress has 5 zones of support to target different parts of the body – because it just makes sense that your head, shoulders, back, hips, and even feet would need different types of support!
And because at some point during the night a toddler sneaks into my bed, I am also happy that my mattress is made of 100% polyurethane, made in the USA, and CertiPUR-US™ certified which means it is manufactured without chemicals or heavy metals. I am super passionate about having our home as "clean" as possible with phthalate-free and low-VOC products whenever possible!
Our mattress was super easy to set up. It arrived in a box, compressed in its packaging. With a quick snip of the scissors, the mattress unrolled and inflated itself in just a few minutes! No stinky smells or difficulty moving it around, which made this very pregnant mom happy.
In addition to a great mattress, make sure you use quality sheets and bedding. I prefer crisp white sheets on my bed. I seriously feel like I've slept in a luxury hotel with my soothing white bedding!
2. Use Optimal Temperatures for Rest
According to the National Sleep Foundation, most people sleep the best when temperatures are between 60-67 degrees Fahrenheit. Having your bedroom at an optimal temperature for rest will help to ensure your body gets the rest needed in order to recover fully overnight. I personally don't have my thermostat set quite so low, since I have a toddler who refuses to sleep under a blanket at night. We have found that keeping the air at 72 degrees in the summer and setting the heat between 68-70 in winter is the perfect temperature for us. It may help if you play around with the temps a bit and track what setting helps you to rest the best.
3. Slow Your Body & Mind with Yoga/Meditation
So many of us, moms especially, are go go go all day long, and we either crash at the end of the day or stay awake trying to process everything that happened. By using yoga or meditation before bed, we can help to calm our thoughts and our bodies to prepare for a more restful sleep. Deep breathing, clearing our brains of the day's stress, and stretching our muscles purposefully can benefit us more than we realize. There are a variety of apps as well as videos on YouTube for beginners, so anyone can find what works best for them.
4. Protein for Overnight Muscle Recovery
We all know how important protein is during the day, but not everyone understands the importance of having protein before bed. Protein is available from a variety of sources – meat, dairy, beans, rice, soy, etc. – as well as supplemental products such as protein powders. Whey protein is a very popular product for many people due to its ease of use and the amount of protein in each serving. The great thing about whey is how quickly it is digested and absorbed after a workout. But at night, whey may not be the best protein choice. Many professionals recommend casein protein before bed due to its slow absorption, which allows the body to receive a steady amount of amino acids over a longer period of time. No matter which protein you choose, make sure you get enough for your body type and goals throughout the day, from breakfast until bedtime!
5. Drink Your Water!
I preach this constantly, but it is something I have to repeat again! Drinking enough water each day is imperative to your health, and is especially helpful for recovery! Not only does water help to prevent delayed muscle soreness, but water also helps with synthesizing protein to aid in muscle repair. A good rule of thumb is to aim to drink 1/2 your body weight in ounces each day. So for a person weighing 150 pounds, their goal should be 75 oz of water daily. More water may be needed in dry climates, hot weather, and after vigorous activity.
Incorporating all of these easy recovery tips into your evening routine can really help anyone who leads an active lifestyle. We all want to be on top of our game, and what could be better than recharging overnight while we sleep?
What do you do to recover for your active lifestyle? I'd love for you to comment below!